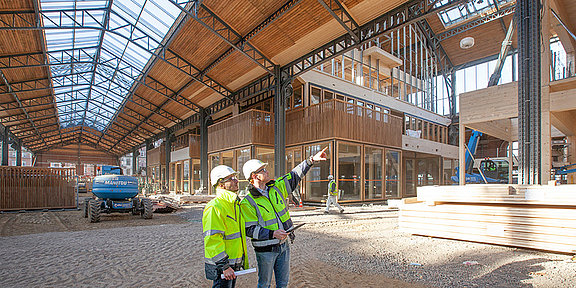 WHAT ARE THE BASIC PRINCIPLES FOR A SUSTAINABLE DESIGN?
Kurt Corvers:
Computational power and energy data are essential elements in achieving sustainable designs. We have been using LINEAR, a powerful and accurate 3D calculation tool, for over fifteen years. In the meantime, we use the same basic thermal model of a building to better integrate and simplify thermal modelling in 3D and dynamic simulations.
We came into contact with Arkance Systems during an event in 2016. Since then, we have continued to implement LINEAR in our BIM environment and communicate with our offices abroad through a platform set up by Arkance Systems (BIM 360 Design).
This is the best of the two worlds: we combine the analytics of LINEAR with the design and configuration ability of Revit. Through BIM 360 we can also share everything with our office in Vietnam.
CAN BOYDENS SIMPLIFY ITS PROCESSES?
Kurt Corvers:
Simplify and improve. Our technology engineering focusses on sustainability and simulating it. Where we previously designed a separate 3D model for each simulation, we now make one thermal scheme: our own BARC model. This is fully integrated in Revit and connected to LINEAR and other software, whereby all integrated HVAC-characteristics can be designed in a simulation. A detailed simulation is fundamental for an energy neutral and sustainable design.
A SUSTAINABLE DESIGN FOR GARE MARITIME?
Kurt Corvers:
Precisely! This is an old train installation on the Tour & Taxis site. Together with Neutelings Riedijk Architects and the contractor MBG we "BIMed" ten locations with a total surface area of 50,000 m² of prefabricated timber construction into offices and commercial spaces. A completely sustainable project, whereby simulations of the design and degree of insulation (for better energy use) and the geothermal energy (ATES, aquifer thermal energy storage for cooling and heating) was our top priority. The optimal use of daylight and geothermal installations ensure that the entire site is fossil free and energy neutral. A premier in Belgium! In October 2019, the first part of this project was ready for use by the first tenant, and we are now almost ready to deliver it.
AND AT AROUND THE SAME TIME, YOU ALSO ENTERED INTO A DEDICATED PARTNERSHIP WITH ARKANCE SYSTEMS?
Kurt Corvers:
Revit, BIM 360 Design and LINEAR are powerful tools and we want to follow their developments closely. That is why we entered into a partnership with Arkance Systems as a knowledge and training centre. It is important to stay up to date with the newest developments in BIM solutions and this includes expertise and continual training.
All these aspects can be found at Arkance Systems and we even organised events to put our cooperation in the spotlight. Boydens Engineering is also growing further, in 2020 there will be an extra focus on growth within European borders and the further development of our departments in Vietnam. Arkance Systems wants to play a crucial role here and to make it a success.
AND COMMUNICATION WITH THE COLLEAGUES IN VIETNAM...
Kurt Corvers:
…of course through BIM 360! In terms of ease of use this is a relief. Everything is synchronised and everyone can look at the latest version. The communication process around it can still be improved both internally and externally, but we hope that a platform like this will become the general standard for the future.
Another platform that advocates international standardisation for BIM content level is TechBIM, an initiative that we welcome. If everyone uses a standard, compatible library, that would make life easier for many parties. In addition, some customers ask if they can buy our 3D model, while we can and want to share this with them for free, so we can start based on our study model.
WHAT DOES THE FUTURE LOOK LIKE FOR YOUR COMPANY?
Kurt Covers:
In addition to focussing on innovation and optimisation within BIM, in 2020 we will start up in Poland, France and Spain. It is not our intention to start up design agencies, but the same standard always applies to our new locations: sustainability and energy efficiency as pillars.
ARKANCE SYSTEMS ALSO HAS LOCATIONS IN POLAND AND FRANCE!
Kurt Corvers:
How great! Who knows, there could also be new partnerships from there?
Since 1961, Boydens Engineering has been active as technical engineering designers and consultants for construction projects from small to large scale buildings, within the public and private sectors.
We have become one of Belgium's leading independent engineering firms for technical equipment in the construction industry. With over 150 specialists from our various offices in Belgium, Luxembourg, Vietnam and Singapore (Representative Office). We work in close collaboration with key technical experts to form a team focused upon open and efficient communication. This in turn enables the exchange of ideas across the skill sectors, resulting in design solutions of quality, function, value, comfort and distinction in accordance to the highest global standards.
---
Technical article
BIM
Energy efficiency
Architecture
---
---
Write a comment