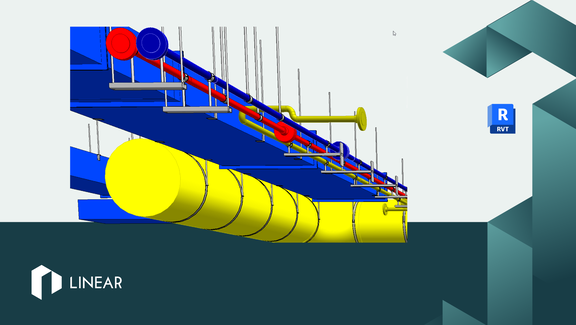 Before using the functions of this area, it should be ensured that the networks have been coordinated with all project participants with regard to calculation, dimensioning and positioning.
Subsequent changes to the duct layout may mean that the construction design has to be carried out again or corrected.
With the functions of this workflow, you can, among other things, divide air ducts into sections, break down pipelines into available delivery lengths, map flange connections in pipelines, provide pipelines with fixings and assign item numbers for network-relevant components.
Course structure
Construction Design
1. Introduction
2. Section and delivery lengths

2.1 Dividing pipelines into delivery lengths
2.2 Dividing air ducts into section lengths

3. Flanges

3.1 Flanges on pipe ends, for pipe separation and at accessories

4. Fixing

4.1 Einleitung
4.2 Placing the pipe clamps
4.3 Placing pipe clamps on brackets
4.4 Pipe clamps with insertion rails suspended from the ceiling
4.5 Pipe clamps on suspended insertion rails
4.6 Placing the air duct fixing

5. Assign Item Numbers

5.1 Foreword
5.2 Assign item numbers

6. e-klimaX-Export
---
E-learning
Revit
Collaboration
Construction
---
---
Write a comment