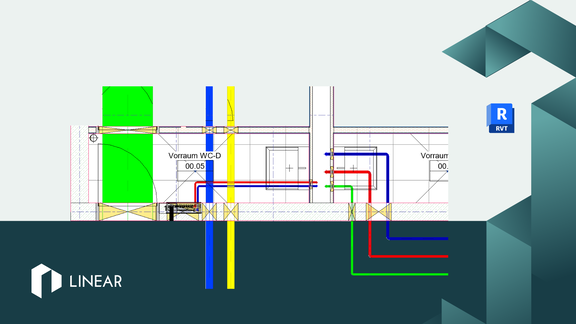 We will show you how to create void proposals manually, semi-automatically and automatically.
The void proposals that are created are initially provisional void forms that you can export in a BCF and/or IFC file format. These can be submitted to the building owner for further coordination.
For Revit, we provide our free add-in LINEAR Void Manager. This add-in allows the person in charge to accept or reject proposed voids and even add notes.
Use the Coordinate function to import the BCF file with the new information, and accepted void proposals are implemented in the model as void forms.
Course structure
Void planning
1. General information

1.1 About the course Void planning

2. Create and edit void proposals

2.1 Manually create void proposals
2.2 Create void proposals semi-automatically
2.3 Create openings automatically
2.4 Labeling openings

3. Coordination (possibly only one chapter/video)

3.1 BCF/IFC Export
3.2 LINEAR Void Manager
---
E-learning
Construction
Revit
Calculation
Waste Water
Architecture
BCF
BIM
Gas
Heating
IFC
Cooling
Collaboration
Ventilation
Void planning
Potable Water
---
---
Write a comment