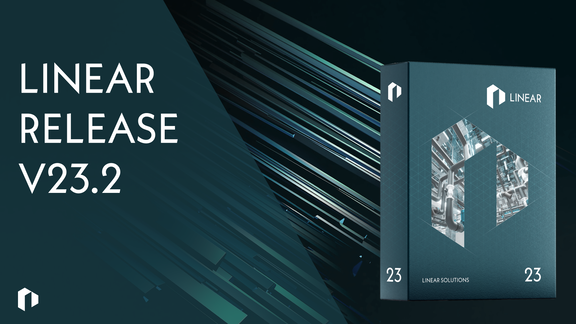 Many new functions await you
The V23.2 feature pack again provides many new functions for your efficient MEP design with LINEAR. With version 23 we also activated the LINEAR Idea Channel last summer and we are happy to fulfill some of the customer requests already with this update. Please continue to use the opportunity to submit suggestions for our software development and to vote for existing suggestions.
Click here for the LINEAR Idea Channel
---
As usual, you will find all new features including descriptions in our Whats New.

Discover all new features
Some highlights of the LINEAR V23.2
With over 20 new features, this feature pack is an extensive further development of version 23. We would like to present some of the highlights here.

Compatibility with AutoCAD and Revit 2024

You already use the latest Autodesk versions? No problem! This feature pack brings you full compatibility with AutoCAD 2024 and Revit 2024, so that you can use the latest Autodesk products seamlessly with our version 23.2. Like last year, we are thus making LINEAR Solutions available to you as a compatibility update shortly after the release of the latest Autodesk versions.
Create component information lists in AutoCAD: One tool for many tasks!
The function "component lists" combines the solution of many tasks around the topic of part data in one tool. Here are some examples:
- You just want to get an overview of the components integrated in your design?
- You need a legend, for example for valves with your settings?
- You want to create a sawing list?
- You want to create a new label quickly and easily?
- You want to check the consistency of the components and your data in the model?
- You want to manage the installed equipment in a plant identification system?
- You want to control and optimize the model transfer via IFC?
- You want to maintain a room book in the model and export it or would you rather maintain it in Excel and bring it into the model for the IFC export?

You can perform these and many other tasks with the "Component lists" tool. Small name - big performance.
Calculation with multiple manufacturers and automatic location of pipe materials and insulations
With the latest versions of the pipe network calculations for heating and potable water, you are no longer limited to a single pipe manufacturer. To select several manufacturers and pipe systems, the user interface has been adapted. You will find all relevant settings compactly in the Pipes and Insulations dialogue.
For easier assignment of different materials for different situations in the network, e.g. basement pipes, risers, floor distributions, there is now the option "Automatic location", also in the Pipes and insulation dialogue.
With this, such installation situations are identified immediately during the automatic network detection, so that manual allocation can be largely omitted.
In addition, the automatic allocation can be adjusted manually. In this way, you can assign individual pipes to a desired area or select components where a partial section separation makes sense from a material point of view, e.g. specify the transition from main to floor distribution.
---
AutoCAD / CADinside
Revit
Technical article
---
---
Write a comment