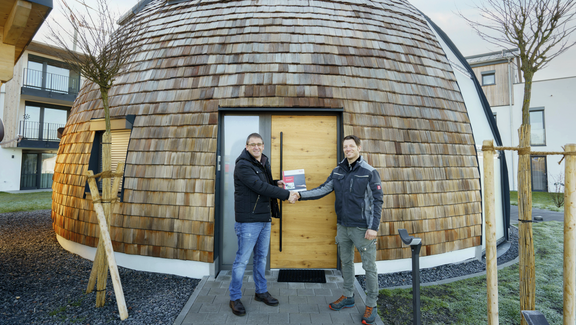 The round architecture of the residence is an eye-catcher. It has a wooden shingle facade, is bright and friendly in design, offers an open living and dining area with panoramic glazing and a free-hanging fireplace. The house has a diameter of 11 m, 116 m² of living space and 27 m² of usable space. Due to the ecological construction method with wood fiber insulation and wood-aluminum windows, the heat load for the building is only about 3 kW and a final energy consumption of 22.15 kWh/m² annually.
Consulting, Planning and Products from a Single Source
The energy system for the building project was planned by Horst Dichtl, technical sales manager at Roth Werke, in close cooperation with Stefan Friedl, owner of the HVAC specialist Elektro-Wärmetechnik Friedl from Perlesreut. He is also the building owner of the Skydome house. An externally installed Roth ThermoAura F9 air-to-water heat pump with an annual performance factor of 4.7 is used for energy-efficient power generation. It provides heating and hot water, is extremely quiet in operation and photovoltaic-ready. The ThermoAura F9 is equipped with the natural refrigerant R290. It operates frequency-controlled, which means that it adapts to the required energy demand of the house occupants, thus ensuring the right heating capacity at all times. The heat pump is monitored and partly controlled through remote maintenance www.Heatpump24.com. The space-saving Roth TAF 180 l/62 l hydraulic unit includes hot water and buffer tanks. The complete hydraulic system is already integrated and includes, for example, a 3-way valve, overflow valve, expansion tank, electric heater and heating circulation pump. Friedl, a specialist for HVAC systems, only had to connect the heat pump and the surface heating and cooling system.
Due to the low-temperature system, the floor heating is the ideal partner for the heat pump. The energy-efficient overall system helps the building owner to save energy. The panel heating provides a feel-good factor in the Skydome house. Its gentle radiant heat creates an ideal room climate for the residents. It is designed as a Roth Original-Tacker system. 1,100 m of Roth 17 mm X-PERT S5 System pipe was used for the 116 m². It is fastened to the insulation with the Original-Tacker Speedstar and Original-Tacker Clips made by Roth (see Fig. 6).
DATA AND FACTS
Skydome house, residential house with carport
Neukirchen vorm Wald, 116 m² living area
Year of construction 2021
Heat load: ca. 3 kW
Final energy consumption: 22.15 kWh/m²
Building owner
E&F Immo GmbH & Co. KG, 94157 Perlesreut
Managing director Stefan Friedl and Ernst Eibl
www.ef-immo.com
SHK-Fachbetrieb
Electrical-Heat Engineering Friedl, 94157 Perlesreut
www.elektrofriedl.de
Energy systems
Roth heat pump ThermoAura F9
Annual performance facotr 4.7
Roth hydraulic unit TAF 180l/62l with hot water and buffer tank
Roth Original-Tacker system surface heating and cooling system with X-PERT S5 17 mm system pipe
Additional Services with ServiceXtra
Roth offers additional services as part of the ServiceXtra service package. The plus of services in the offer for heat pump systems includes initial commissioning with briefings, remote maintenance, one-time and annual maintenance, repair service and warranty services. For the heat pump system in the Skydome house, Roth provides a 5-year warranty.
There are also attractive subsidy programs from the German Federal Office of Economics and Export Control (BAFA, www.bafa.de) for the installation of heat pumps. As a special service with a subsidy support, Roth takes over the application for subsidies when purchasing a Roth heat pump system.
Stefan Friedl summarizes: "In addition to its unusual architecture, our Skydome house is characterized by groundbreaking building technology. As long-term partners, we have relied on Roth system solutions for this project. With great success. The building concept is so well received that we are planning a Skydome park with several buildings."
Design of the Floor Heating
Roth-Werke has successfully relied on LINEAR's software solutions for many years. For the Skydome house, the heat load was determined and the floor heating in combination with the Roth product data set, was designed for all rooms. Numerous distribution and control sets, including accessories, are available in the dataset for the various Roth floor heating systems. The comprehensive material compilation contained all the required components, and could be issued as a finished quotation. The precisely dimensioned heating circuits were transferred directly to the buildings floor plans. As a result, the planner received an optimized system taking into account the manufacturer-specific properties of the applied products.

About Roth Werke GmbH - Certified Manufacturer (ZVSHK)
Roth is an international manufacturer of power and sanitary systems, offering established brand products in a three-tier distribution channel. Under the motto "Life full of energy", Roth connects its product systems from energy generation to energy storage and energy use to create a complete system from a single source. Roth energy and sanitary systems stand for renewable energies and energy efficiency and consequently for environmental and resource protection, cost and supply security. They meet the ecological and economic requirements in terms of design, manufacture and operation.
With its own research & development, Roth has been setting standards in modern building technology for 75 years. The company is certified according to DIN EN ISO 9001 as well as EMAS and the products comply with the relevant standards. A nationwide field service ensures rapid advice on commercial and technical issues on site. Hotline and project planning service are also up to difficult tasks. Factory training courses, product and software seminars and internet service round off the range of services.
---
BIM
Technical article
Panel heating / cooling
Construction
Architecture
---
---
Write a comment